Once, I had a client that apparently couldn't find my business's website. She told me, "I tried to look for your website, but I couldn't find it on Google. I could only find some big corporation with a similar name."
That "big corporation" was my company of two, thirdbreath.
As the old adage goes, "Dress for the job you want, not the job you have." What about dressing our businesses for the jobs and clients we want? Time and time again, we hear this phrase and either dismiss it because it requires far too much effort, or we don't actually know the job we want, and will thus be perfectly content to remain in our same clothing. That's a problem. Here are a couple things that you can do to get on a Fortune 500 level, long before you're at the Fortune 500 level.
Get a Real Brand Identity
For my business, it was easy. I'm a brand identity designer, so when it came time to create a logo, business cards, and decide on brand guidelines and style guides for the website and other print material, I had it all under control. Not all businesses have an in-house designer like me at their disposal, which is why I do the projects that I do for other businesses. Nonetheless, that's no excuse: brand identity from a really talented designer does not have to be expensive, and if they do good business, they will do their best to work with you on terms, timeline, and deliverables to make your brand credible and fit your budget.
Build a Real Website
Though it's easier than ever to build a functioning website, having an eye and ability to design has not become any easier with technology. Yes, you may be able to make a site on Squarespace, Wix, or Weebly, but that doesn't mean that you'll get mistaken for a sophisticated corporation like I did. Again, don't hesitate to bring in outside design help. Not sure if your website looks good? That's a sign that you need help, so don't be afraid to go get it. Don't lose customers just because your competitor dresses better.
Be Extraordinarily Responsive
One way to instantly increase your professionalism in any business is to be quick to respond to inquiries and questions that show up in your inbox. This is difficult, and it's much easier to let your emails sit for a couple days until you get a chance to sift through them and respond to your clients and customers. However, there's a reason that large corporations have entire departments dedicated to customer service: it's really, really important. Until you have a department doing it for you, take responsibility and be as responsive as you possibly can. Be a partner, not a vendor.
Responsiveness and engagement are just one small part of building a brand that your customers will continually love and advocate for. Don't forget to be responsive and caring, because it's "easy to start to get lazy when your company hits its groove and your client base is pretty set." It may be more work, but your clients, (and later on, you) will appreciate it.
Get the Little Things Right
The small details matter as much as the big ticket items in making sure your operation doesn't come off as uncredible. For example, change your email signatures from their default and throw some links to your website and social profiles. Not only will people click on them and see the beautiful website you had designed for you, but they also won't see "Sent from my iPhone," and that's the most important part.
In addition, make sure that your usernames and emails are professional. Try your best to remove dashes and underlines from your handles: instead of @diego_does, I made sure to choose the much simpler @diegodoes. In a similar vein, get an email on your domain with G Suite rather than using your @yahoo.com address. I know you may have used the same email address since before I was born, but that doesn't make it right!
…
In the days when the Fuller Brush man used to show up to your door and with all of the charm he could muster and attempt to make you buy cleaning products, his clothing would have been a very important part of his pitch. In fact, at first glance, it's the only part of a traditional salesperson's pitch: until they begin to explain their product, the only rationalization I can make for not shutting the door is that they look professional.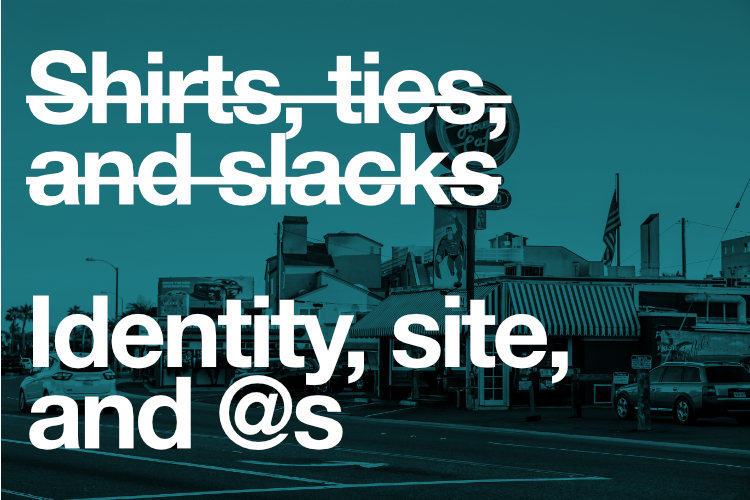 Times have changed drastically, and now I could be communicating with future clients or partners before I even fully get out from under the covers. The modern equivalent to the traditional salesman's uniform of shirt, tie, and slacks has officially been replaced by identity, site, and @s. Make sure you get them right, continue to do truly great work, and you'll be on your way to becoming a highly credible and respected business in no time.