Ready to join a team of rock stars as an independent, freelance virtual assistant?
We're glad you are considering a career as a virtual assistant, and we hope you will take a closer look at joining the Trusty Oak team. Being a VA has both challenges and rewards, and here at Trusty Oak, we strive to make the rewards outweigh the challenges by providing our team with everything needed to be successful.
Our VAs are independent freelancers, so they make their own schedules and choose which projects they want to take on. Plus, they can work from anywhere in this great nation – day or night. It's a pretty sweet gig that is perfect for individuals with a professional background who want a flexible alternative to traditional employment.
Watch the video to meet some of our VAs.
---
How the Process Works
We'll be honest, our vetting process can be strenuous — we mean it when we say we're rounding up the best virtual assistants in the country and matching them up with motivated entrepreneurs. We offer spots on our tight-knit team when they become available, which can range anywhere from a few weeks after you apply to several months.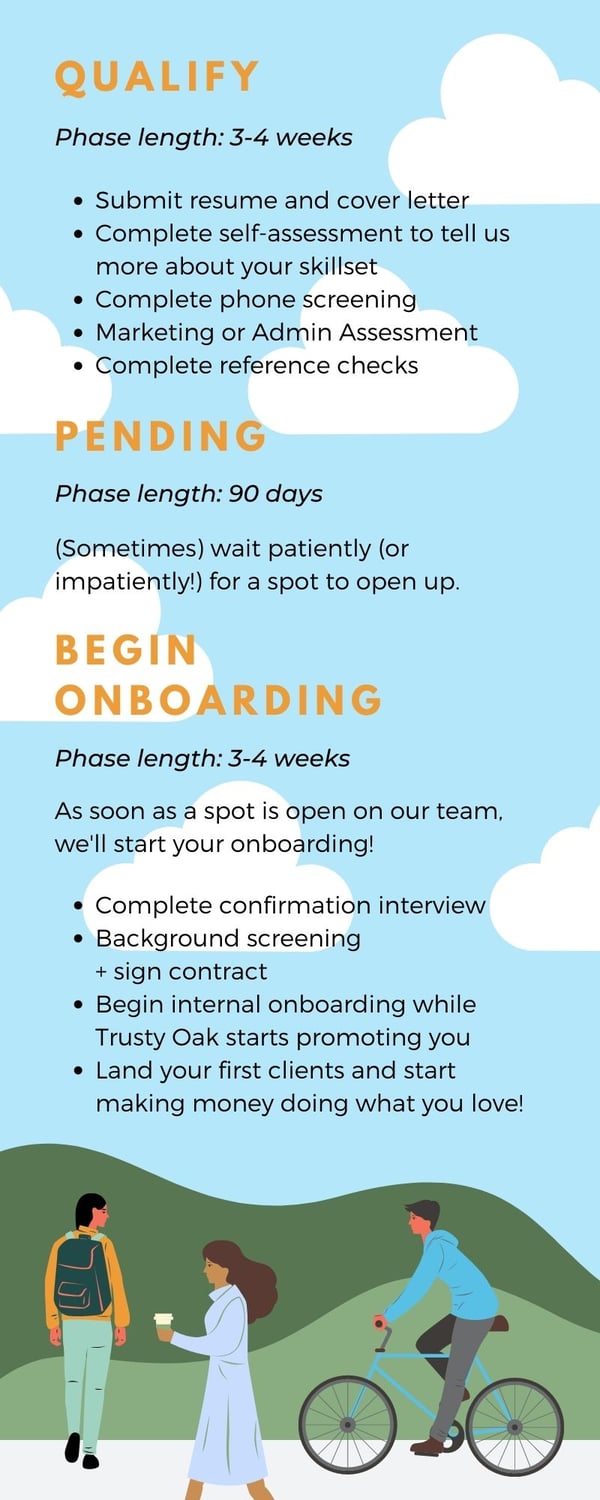 We often accept applications even when positions aren't open immediately to make sure we're always poised to meet client demand, and we keep in touch with you throughout the entire selection process.
---
How Trusty Oak Supports Freelance Virtual Assistants
We support independent subcontractors by providing:
A brand that is a trusted, reliable resource for business owners seeking assistance
Weekly direct deposit on Fridays
Access to software programs such as Canva Pro, Grammarly, HubSpot Meetings and CRM, and more
A personal page on the website each VA can use to promote his/her business
Free training and resources (HubSpot certifications and more)
Competitive pay and the opportunity to earn commissions
One-to-one coaching and mentoring to help VAs succeed as freelancers
Targeted outreach and digital promotion for each freelancer to get to their ideal workload and ideal clients fast
Camaraderie with other like-minded, hard-working people
Trusty Oak Virtual Assistants Minimum Requirements
At least two years of experience as an executive assistant, project manager, office manager or similar role
A nerdy obsession with getting the details right the first time
A dependable computer (Mac or PC) with Microsoft Office
Access to high-speed internet
A dependable phone
A work environment conducive to working distraction-free
A willingness to learn new things nearly every day
A desire to build a business as a virtual assistant (10-30 hours per week) without doing it alone
A commitment to never, ever "ghosting" a client or Trusty Oak — a cornerstone of the Trusty Oak difference
A positive attitude despite challenging situations
We're especially looking for assistants with experience in:
Marketing
Social Media
Writing and written communication
Managing calendars
Project management
MailChimp, Constant Contact, or another email marketing program
Quickbooks (basic invoicing)
CRMs such as Hubspot, Salesforce, Zoho, Capsule, AgileCRM, or others
WordPress
Advanced experience that can be beneficial:
Graphic design
Ghostwriting
Advanced Excel
Bookkeeping
Web Design
---
Trusty Oak is currently accepting applications.
For questions, please contact us by emailing careers@trustyoak.com.